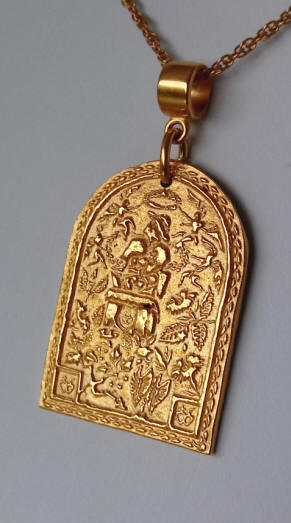 24K Gold over Bronze - Includes chain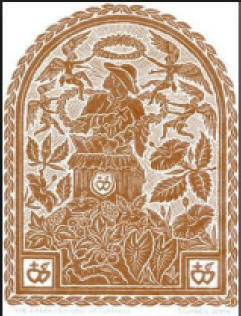 Original Dietrich Varez Print
Father Damien
"Cannonization"
Pele at Kilauea Volcano
SOLID BRONZE
With black waxed cotton cord

Pendant Back

With hand-designed te
---

Saint Damien of Molokai:

Father Damien or Saint Damien of Molokai, was a Roman Catholic priest from Belgium and member of the Congregation of the Sacred Hearts of Jesus and Mary, a missionary religious institute. He won recognition for his ministry from 1873 to 1889 in the Kingdom of Hawaiʻi to people with leprosy (also known as Hansen's disease), who were required to live under a government-sanctioned medical quarantine on the island of Molokaʻi on the Kalaupapa Peninsula.



For DETAILED information on the New Saint Damien and Saint Marianne Jewelry or Rosaries, or to purchase, please go to our special "Religious Designs Website" at:
http://www.catholicgiftshawaii.com
.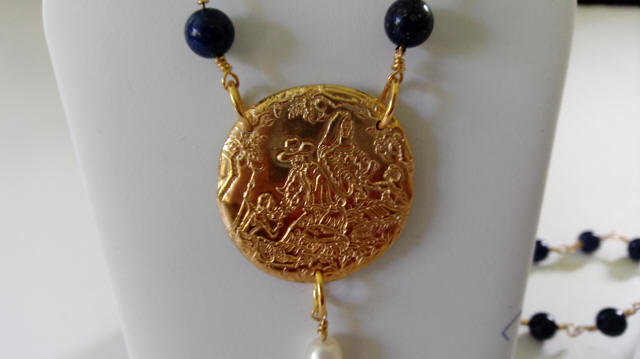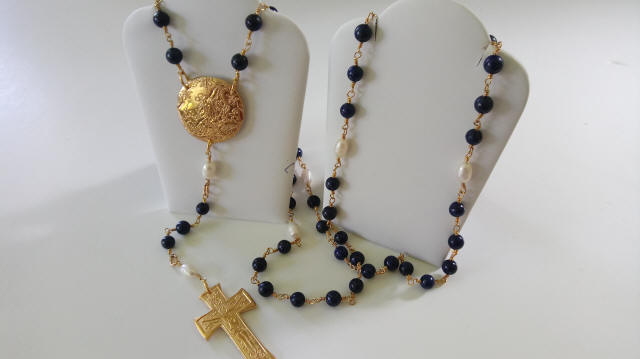 The Bishops Rosary - with Blue Lapis and Vermeil. Given as a gift to Bishop Silva at the inaugural
St. Damien and St. Marianne Conference in October 2017 in Honolulu. To see more of the Saint Damien Jewelry and Pricing, please go to the catholic gifts website at www.catholicgiftshawaii.com
During this time, he taught the Catholic faith to the people of Hawaii. Father Damien also cared for the patients himself and established leadership within the community to build houses, schools, roads, hospitals, and churches. He dressed residents' ulcers, built a reservoir, made coffins, dug graves, shared pipes, and ate poi from his hands with them, providing both medical and emotional support.

Father Damien has been described as a "martyr of charity". He was the tenth person in what is now the United States to be recognized as a saint by the Catholic Church. To this day Father Damien is the patron saint of the Diocese of Honolulu and of Hawaii.

Upon his beatification by Pope John Paul II in Rome on 4 June 1995, Blessed Damien was granted a memorial feast day, which is celebrated on 10 May. Father Damien was canonized by Pope Benedict XVI on 11 October 2009.

Dietrich Varez has honored the cannonization of Saint Damien with a special block print. The original print is 12" x 18" and just like his original prints, each jewelry pendant is made one at a time by hand. No two are exactly alike.

The pendant is handmade of Solid Bronze and finished with a heavy layer of 24K Gold which makes it very durable and it won't tarnish. Solid bronze is much harder than some other metals and therefore it is more difficult to work than silver or gold, and it takes great skill and more labor to achieve such a fine finish.
This pendant is available in Heavy 24K Gold over Solid Bronze, Natural Solid Bronze and Solid Copper. Chain included ( your choice of 18", 20", 22", 24" ). Sterling Silver, 24K gold over Sterling Silver, and solid 14K/18K gold are available by custom order.

This pendant is avaialble in 3 different sizes and also incorporated in our special custom made Rosarie's . PLEASE INQUIRE

Each piece of Varez Wearable Art has also a one-of-a-kind hand-sculpted back that is unique to each peace. No two are exactly alike. The textured back gives each creation a wonderful multi-dimensional feel and you can also wear the back design to the front. So it is like two pieces in one design.

This pendant is avaialble in 3 different sizes and also incorporated in our special custom made Rosarie's . PLEASE INQUIRE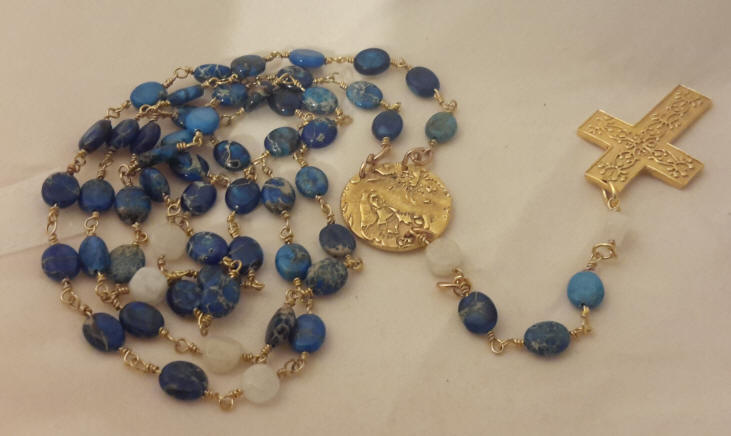 This rosay is made with blue Jasper , a round Saint Marianne pendant, and a custom design Cross with a Kukui Flower Design which is the offical flowerl of Molokai and smbolizes light and truth.

All our Saint Damien, Saint Marianne and Cross Designs are avaiablle in a variety of sizes and custom designs.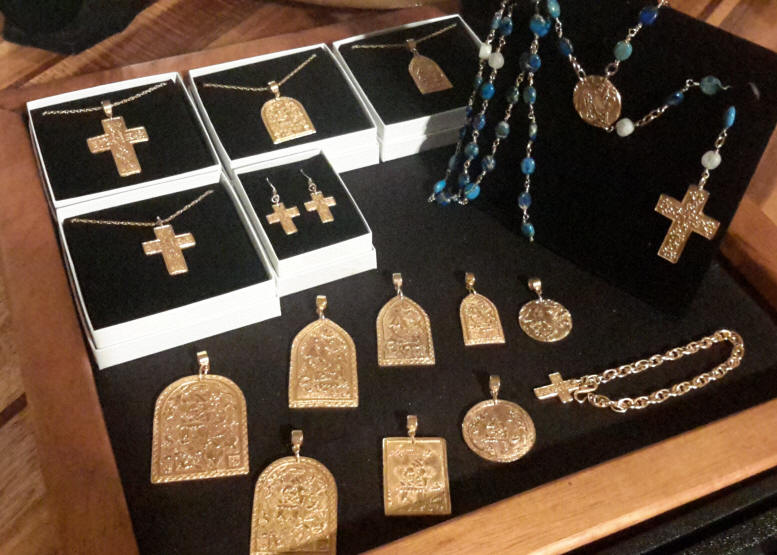 Shown above: Kukui Crosses, Saint Damien and Saint Marianne Pendants in a variety of sizes and shapes, bracelet with cross, and a Blue Jasper Rosary. Custom Designs avaialble.