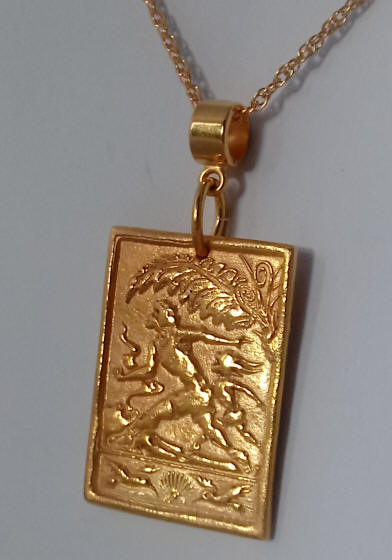 Hawaiian Rainforest Runner
Heavy 24K over Solid Fine Grade Jewelers Bronze



Original Dietrich Varez Block Print
"Rainforest Runner"




---

Hawaiian "Rainforest Run" Pendant

Available in 925 Sterling Silver, 24K Gold Vermeil, Fine Jewelers Bronze or Copper, and Pure 24K Gold over Bronze or Copper


STORY: "The Rainforest Run" has been a long time event in Volcano and enjoyed by runners from all over the world. The pendant depicts a male and female runner, the errupting Volcano in the background, the Hapuu Fern, two Iiwi Birds and the Lehua Blossom of the Ohia Tree. A true Volcano Piece of Wearable Art. Each one is handmade, no two are exactly alike.

A perfect gift for anyone that is a runner or for yourself as momento of the run or a as a good luck piece it is a great gift for any running enthusiast.

This elegant pendant is handmade, one at a time no two are exactly alike. Fired on top of the only active Volcano in the United States, "Hawaii Kilauea" the land of hot lava and the home of Pele.

This Pendant includes a luxurious high quality Rope Chain with a beautiful S-Clasp, or if you prefer we can provide a high-end black woven cord with the same Clasp. You can choose the lenght of the chain or cord ( 18", 20", 22", 24" or 26" ).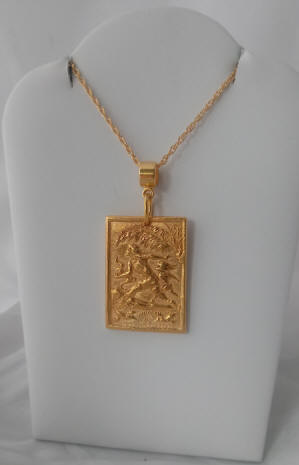 To make this even more unique, each piece of Varez Wearable Art has a one-of-a-kind hand-sculpted design on the back ( see picture to the left ) that is unique to each piece, so no two are exactly alike, and your pendant is a true one-of-a-kind. . The textured back gives each creation a wonderful multi-dimensional feel and some people
even wear the back design in the front.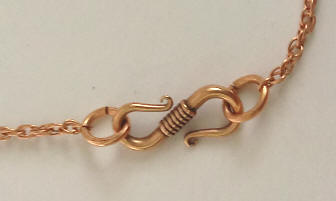 Thank you for your interest in the Dietrich Varez Collection of Wearable Art! Pleaes like us on FACEBOOK and we would appreciate if you share this page with your friends.




TODAY's SPECIAL- Artist Direct Pricing:



Fine Artist Copper
$78.00 ea.( w/ anti tarnish coating ). Reg. $95.00

925 Fine Sterling Silver
$135.00 ( tarnish resistant ) Reg. $165.00

925 Sterling Vermeil (24K Gold over Sterling Silver)
$165.00 ( will not tarnish ) Reg. $195.00

If you would like to purchase a chain with your pendant,
please call us to order at 808-987-0920.