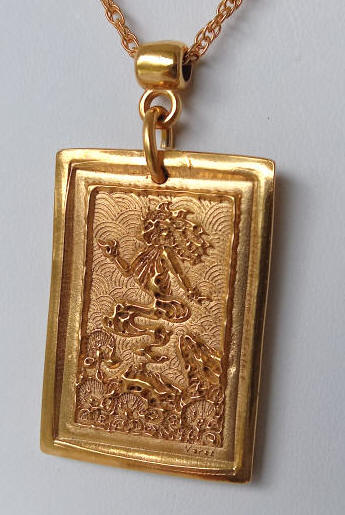 Sample Look: 24K over Solid Copper or Bronze


With solid bronze rope chain




Pele at Kilauea Volcano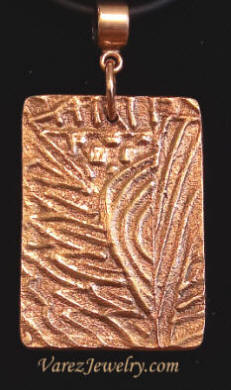 Pendant Back
With hand-designed textured back
( Each back is unique - no two are alike )


** All our pieces are now marked with either 925 or the alchemy sign for Copper, a Petroglyph Rainbow Moon, a Japanese Piece Symbol, and our A&A Logo. ( picture coming soon )
...Interested in more information about Pele ?... Click Here to read more about it ..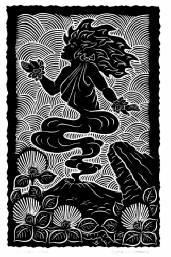 Dietrich Varez Story Jewelry:
Now availabe also in Sterling Silver!

( Pictures coming shortly)

Pele at Kilauea Volcano

THE STORY:

Pele is the goddess of fire, lightning, wind and volcanoes and the creator of lava and the Hawaiian Islands. Often referred to as "Madame Pele" or "Tūtū Pele" as a sign of respect, she is a well-known deity within Hawaiian mythology, and is notable for her contemporary presence and cultural influence as an enduring figure from ancient Hawaii.

In this piece of Wearable Art, Pele is shown as emerging from her home, Kilauea Volcano Crater, and is surrounded by the beautiful Lehua Blossoms of the Ohia tree.

HANDMADE WEARABLE ART:
Each pendant is hand-sculpted with amazing details in our studio nestled admists a gorgeous tropical rainforest. The design is an artistic colaboration with beloved Big Island Artist "Dietrich Varez", and based on one of his famous wood block prints. Just like his prints, each pendant is made one at a time and a true heirloom to be cherished for a lifetime.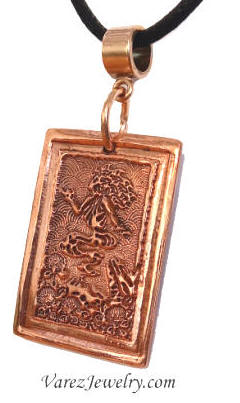 Each piece of Varez Wearable Art has also a one-of-a-kind hand-sculpted back that is unique to each pendant. No two are exactly alike. The textured back gives each creation a wonderful multi-dimensional feel. NEW: Now all of our designs include the marking on the back with 925 for Sterling Silver Designs ( the alchemy sign for copper for any copper designs, along with our signature Rainbow Man Petroglyph, the Japanese Symbol for "Peace", and our Jewelers Mark, the A&A Logo. )

This pendant / is available in :

Solid 925 Sterling Silver
People have linked silver to luxury for decades -- You probably heard the phrase "silver spoon" which is associated with wealth for a reason.
Sterling Silver is a faboulous alternative to White Gold at a fraction of the cost and can easily be worn at the same time to compliment any White Gold Jewelry you already own.

Sterling Silver VERMEIL is the most luxurious Silver You can buy.
( Vermeil refers to a heavy layer of 24K gold applied over 925 Sterling Silver ),

Heavy 24K Gold over Copper ( Our most popular design )
We love the look and feel of Fine Jewelers Copper and the added heavy layer of Pure 24K gold makes for a rich luxurious piece of wearable art. Copper is said to have a healing benefit for arthritis and joint stiffness. Some people believe it, some don't, and there has not been scientific proof for it, but it won't hurt to own a special piece of Copper Jewelry, just in case. And in any case, it is a stunning piece of Jewelry to own.

Fine Jewelers Copper:
In its natural stage Copper has a similar appearance like Rose Gold, as a fraction of the cost. You can easily wear Copper Jewelry to compliment any Rose Gold Jewelry you already own. Copper is said to have a variety of health benefits, which is a reason many people enjoy to wear copper jewelry. All our Copper Jewelry includes a non-alergenic anti tarnish coating, especially made for fine jewelry.


Thank you for your interest in the Dietrich Varez Collection of Wearable Art!


Please like us on FACEBOOK

and we would appreciate if you share this page with your friends. You can find us on Facebook and Twitter at: @VarezJewelry


Fine Artist Copper Penant
$78.00 Medium ( without border ) - $95.00 Large (with design border)

925 Sterling Silver
$135.00 Medium (without border) / $195.00 Large (with design border)

925 Sterling Vermeil ( 24K Gold over Sterling Silver )
$165.00 Medium (without border) / $225 Large ( with design border )

* Several styles of chains available . Please CALL 808-985-8827 to inquire.

ARTIST DIRECT PRICING: